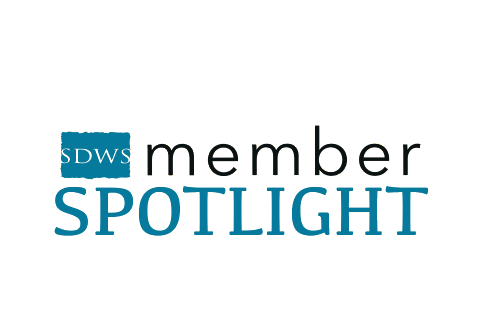 The San Diego Watercolor Society is pleased to feature some of our distinguished artists in a "Member Spotlight" to increase engagement in the arts and also recognize some of our remarkable member artists.
One of these artists is the lovely Linda Mullen. Linda was kind enough to give us a little insight into her life as an artist and we hope you will enjoy reading and learning a little more about her. Her stunning artwork is a true inspiration!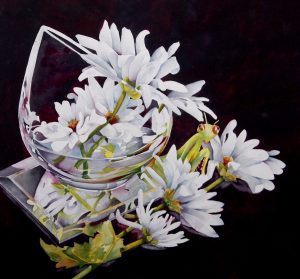 When did you first get started as an artist?
I started painting more than 25 years ago. I began very slowly and since I had trouble holding a brush, I dipped a sponge into the paint and dabbed it on. Today, I use a brush (smile)
Could you tell us a little bit about your background?
I am primarily self-taught. Early on I took a six-week watercolor class at the Adult Night School. It was everyone paint the boat, the snow scene, the barn, etc. I didn't really learn a lot about watercolor, so I began to purchase books in order to teach myself. Many years into painting, I took a workshop with Jan Kunz at the SDWS, then years later a workshop with Arleta Pech. Last year I took a workshop with Soon Warren just for the fun of it!
What can you tell us about your painting style / favorite medium(s), favorite subject matter(s) / etc.?
My style is realistic. I've tried many different subjects but continue to bounce back to flowers and glass. The one subject I don't paint is landscape. My brain just doesn't see trees and rocks.
Why do you paint?
The best answer to this question is that no matter what happens, I just can't seem to stop. There are seasons where my brushes lay dormant, but then I get up one day and just have to get back to the studio.
What inspires you as an artist?
Shadow patterns. Even when I just doing errands or out for a walk, I'm continually looking at the way the sun is hitting objects and casting shadows.
What advice do you have for someone who is just getting started or would like to improve their painting skills?
My advice is to get a good, solid, beginning watercolor workshop. Second, hang around artists whose work you admire and pick their brains. I have found that the artists at SDWS are extremely generous in sharing their knowledge.
Can you tell us a little bit about your favorite aspects of the San Diego Watercolor Society?
The artists themselves are the greatest draw. They are friendly and generous. I remember when I was new and still in a large learning curve, no one made me feel inferior. As a matter of fact, the most talented gave me the best advice and attention.
If people would like to view more of your artwork, what's the best way for them to follow you?
I have a website, www.lindamullen.com. Currently, I am creating art videos. They are posted in Skillshare on the internet and will shortly be available on my website–I hope! This is taking longer than I planned. If you go to my site right now, it's under construction.