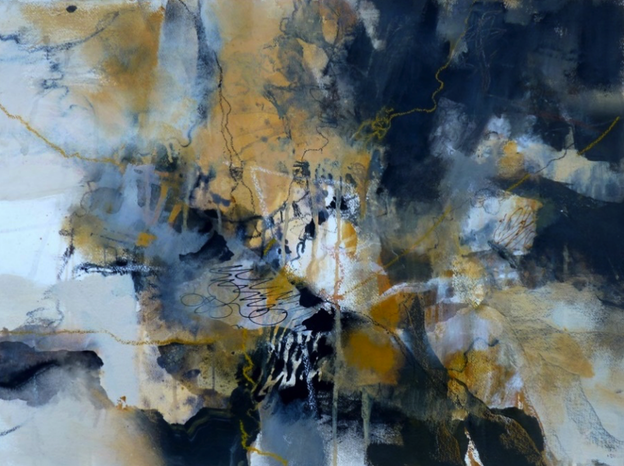 Kathleen Scoggin was awarded First Place for her painting Carbon Count II at the March 2019 Member Show "Understated Surfaces". We love this painting and are thrilled to share a little information about Kathleen with our arts community.
---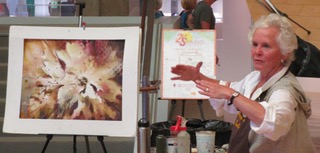 Can you tell us if you had any special inspiration for this painting?
I am so honored with the award given my painting at the March member show. I usually work with organic shapes and love using neutrals as my color pallet. The under painting actually was a demo I did at one of my workshops. The use of the blacks and grays led to the name Carbon Count II.
What else can you tell us about your painting style, how you got started, or why you paint?
My goals when painting are to balance a spontaneous approach with strong composition and design. The spontaneous " let the water media do its thing" is the fun part, while the application of design principles is the hard and often frustrating part of the artistic process. I love the challenge of always trying to paint a better painting!I have always loved art, but put it on hold during my career as a Clinical Dietitian and Food Service Director for large institutions. My husband, Paul along with the help of my artist mother in law gave me a gift of a complete set of watercolor supplies before I retired. I began taking workshops to build my skills and have been painting ever since. I treasure the friends I have made in the art community and the good times we have had thru artistic activities.
We know you are long-time member of the San Diego Watercolor Society. Can you tell us a little bit about your favorite aspects of the organization?
I became a San Diego Watercolor Society member when I took a workshop here some years ago. I feel so fortunate to belong to a watercolor society with a gallery to show my art as well as continue to grow with the great workshops they provide.
If people would like to view more of your artwork, what's the best way for them to follow you?
My current work and teaching schedule can be viewed on my website: kathleenscoggin.com
Tags: artist, kathleen scoggin, san diego watercolor society, watercolor