---
Workshop Information
Premier & Weekend Workshop prices are discounted for SDWS Members. To receive the discounted price, please log in before registering. If you are not a member or your membership has expired and would like to receive the discounted price, renew your membership or join SDWS prior to signing up. Please contact our workshops registrar at registrar@sdws.org or the workshops director at workshops@sdws.org with any questions.
In-Gallery Workshops: All in-gallery workshops are held in our beautifully light-filled education center inside the San Diego Watercolor Gallery in The ARTS District of Liberty Station. (Location)
ZOOM Workshops: Virtual workshops will be conducted using Zoom. They will include a combination of live painting demo(s), interactive communication with the instructor, and individual painting time - all from the convenience of your home / studio.
Click HERE for Virtual Workshop Technology Requirements
Click HERE for Workshop Refund Policy
Click HERE for Nearby Hotel Accomodations
---
Premier Workshops
Premier Workshops are typically four days and take place during the week. They are taught by nationally and internationally renowned artists. Workshops are open to artist of all levels.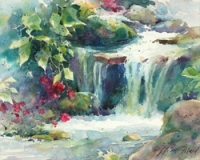 Watercolor Unleashed - Wet & Wild - ZOOM WORKSHOP
Instructor: Julie Gilbert-Pollard
Learn how to make water look wet, reflective, and splashy! With stunning waves, waterfalls or intimate woodsy creeks as your model, learn to paint water in motion and glassy reflections. In addition to traditional watercolor methods, learn to use "acrylic underpinnings" to set the stage for vibrant colors in your "waterscape" paintings.
All experience skill levels are welcome
Non Members Fee: $275.00 Members Fee: $250.00
Date: Monday, July 12, 2021 - Wednesday, July 14, 2021
Time: 9:00 AM-3:30 PM

Login and sign up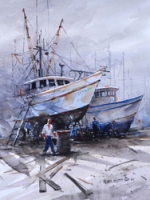 Watercolor Impressions - LIVE GALLERY WORKSHOP
Instructor: Michael Holter
This workshop will focus on the use of watercolor to paint exciting impressionistic paintings from photographs and explore the use of light and shadow to create interesting compositions with dynamic results. Daily discussions and application of the principles and elements of design will be woven into your painting experience. Michael will demonstrate his approach to creating expressive portraits and landscapes and show you several high-speed video demonstrations.
All experience skill levels are welcome
Non Members Fee: $275.00 Members Fee: $250.00
Date: Monday, August 9, 2021 - Wednesday, August 11, 2021
Time: 9:00 AM-3:30 PM

Login and sign up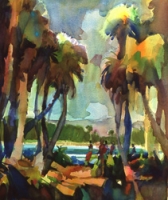 Landscape Color & Composition - LIVE GALLERY WORKSHOP
Instructor: Don Andrews
Don's Landscape Workshop is geared specifically for artists eager to paint and study in a no-stress studio environment. Each day, Don will address a major visual concern; light, color, granulation, organizing nature, and utilizing negative space are just a few subjects to be covered. This workshop will be packed with demonstrations, discussions, individual help, and personal and group critiques.
All experience levels are welcome
Non Members Fee: $475.00 Members Fee: $450.00
Date: Monday, September 13, 2021 - Thursday, September 16, 2021
Time: 9:00 AM-3:30 PM

Login and sign up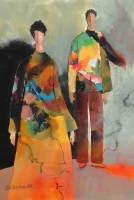 Creating Paintings With Impact - Acrylic/Collage
Instructor: Liz Walker
Learn how to construct a strong, connected composition, how to mix paint with patterned collage papers, and take chances which make your art memorable and personal. It is all about composition, color, value, line and shape. You will learn how to choose and mix colors, with lots of short demos and some relaxed critiques led by this award-winning instructor. Students can expect examples, suggestions, and plenty of feedback in this one-of-a-kind workshop.
Basic acrylic painting skills required
Non Members Fee: $475.00 Members Fee: $450.00
Date: Monday, November 8, 2021 - Thursday, November 11, 2021
Time: 9:00 AM-3:30 PM

Login and sign up