Premier Workshops
The San Diego Watercolor Society Workshops are held in our beautiful, light-filled education center in the SDWS Gallery in The ARTS DISTRICT Liberty Station, 2825 Dewey Road, Bldg #202, San Diego, CA 92106.
Prices are discounted for SDWS Members. To receive the discounted price, please log in, then choose Workshops to find the desired workshop, register and receive the automatic discount.
If you are not a member or your membership has expired and would like to receive the discounted price, renew your membership or join SDWS prior to signing up.
Questions? Please contact our workshops registrar at registrar@sdws.org or the workshops director at workshops@sdws.org.
---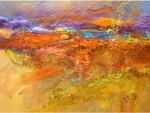 CANCELLED: Experimental/Aggressive Textures/Unusual Mediums
Instructor: Jan Sitts
By combining aggressive textures and unusual mediums with various materials the end result in mixed media abstraction painting is the creative accomplishment. This method presents the magnetism that is abstraction in mixed media painting. Many techniques, materials, compositions and above all, emotions play off of each other when creating the piece. The adventure is not knowing where you are going with it until you get there! You will become enlightened as you journey through this process.
The workshop is loaded with information that can be useful applied to any painting.
Recommended experience level: All levels
Non Members Fee: $490.00 Members Fee: $450.00

This workshop takes place on:
Date
Time
Monday, July 13th, 2020 - Thursday, July 16th, 2020
9:00 AM-3:30 PM
Login and sign up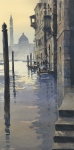 CANCELLED: Impressions of Built, Natural, & Imagined Worlds
Instructor: Michael Reardon
In this 4-day workshop we will emphasize fundamental techniques in order to strengthen your skills in watercolor landscape painting. Fundamentals covered will include: creating a strong composition, evoking a sense of light through the use of values, and manipulating color for its full expressive effect. While Michael will demonstrate his painting style and the use of colors in his palette, he will encourage people to develop their personal style and approach to watercolor.
A demonstration will start each day, followed by individual painting with careful guidance. A review of the day's work concludes each day. We will also explore ways to work with photo references so that they help, not dictate, your final painting.
Recommended experience level: all levels with watercolor recommended
Non Members Fee: $490.00 Members Fee: $450.00

This workshop takes place on:
Date
Time
Monday, August 10th, 2020 - Thursday, August 13th, 2020
9:00 AM-3:30 PM
Login and sign up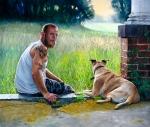 CANCELLED: Portriature/ Figurative & Still Life
Instructor: Matthew Bird
With a focus on strong light and deep value to create intense and dramatic paintings, this four-day workshop will include daily watercolor demonstrations illustrating Matthew's technique and giving insight into his methods and philosophies. Students will follow along with daily demonstrations on the same subject moving toward a complete or near-complete painting. Painters with more experience can work from their own photographs with individual guidance, or work from the material provided.
Whether you are a beginning student looking for an introduction to figure work,or a more advanced painter looking to refine your understanding of light, colorand value, this class will be a great opportunity to take your understanding to a higher level.
Topics include:
The importance of design, value and composition
Painting the translucency of skin
Properties of color and the physics of light
Handling complex textures such as hair and fabric
Special attention will be given to the unique properties of light and shadow, edges and color
Plus tips on working with your model, avoiding mistakes and marketing your work
Recommended experience level: all levels
Non Members Fee: $490.00 Members Fee: $450.00

This workshop takes place on:
Date
Time
Monday, September 7th, 2020 - Thursday, September 10th, 2020
9:00 AM-3:30 PM
Login and sign up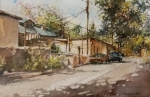 CANCELLED: Landscapes/Flowers/ Foliage
Instructor: Carol Carpenter
Class will include daily exercises and demonstrations on initial drawing, composition and placement, as well as examples of related techniques.
Demonstrations of edges, layering, and methods to retain the white of the paper will be given. And a display of steps to arrive at a finish will be provided to follow.
We will also focus on how to pick which details to include or exclude, how to add that bit of mystery into your work. There will be individual instruction for each student throughout the class. Please bring the materials you have and if you need suggestions about additional materials please refer to the supply list posted online. Carol will provide a watercolor paper workbook.Be sure to bring any references or photos you may want to use.
Recommended experience level: all levels
Non Members Fee: $390.00 Members Fee: $300.00

This workshop takes place on:
Date
Time
Monday, November 9th, 2020 - Wednesday, November 11th, 2020
9:00 AM-3:30 PM
Login and sign up