---
Workshop Information
All workshop particpants must have an account on our website to register for a workshop. SDWS Members should log in to their account prior to registering. If you are not a member and do not have an account, please click HERE to create a free account.
Premier & Weekend Workshop prices are discounted for SDWS Members. To receive the discounted price, please log in to your account before registering. If you are not a member or your membership has expired and would like to receive the discounted price, click "Membership" in the main menu to renew your membership or join SDWS prior to signing up.
Please contact our workshops registrar at registrar@sdws.org or the workshops director at workshops@sdws.org with any questions.
In-Gallery Workshops: All in-gallery workshops are held in our beautifully light-filled education center inside the San Diego Watercolor Gallery in The ARTS District of Liberty Station. (Location)
ZOOM Workshops: Virtual workshops will be conducted using Zoom. They will include a combination of live painting demo(s), interactive communication with the instructor, and individual painting time - all from the convenience of your home / studio.
Click HERE for Virtual Workshop Technology Requirements
Click HERE for Workshop Refund Policy
Click HERE for Nearby Hotel Accomodations
---
Weekend Workshops
Weekend Workshops are held on Saturdays and Sundays and are open to artist of all levels.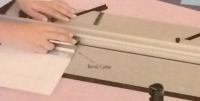 Mat & Frame - LIVE GALLERY WORKSHOP
Instructors: Susan Hewitt and Denise Tverdoch
Learn the basics of matting and framing for gallery exhibitions. This workshop will cover framing options and acceptable matting and glazing methods. We will explore multiple mounting techniques, to include floating. Emphasis will be placed on mat cutting, learning how to cut mats with various mat cutters. You will learn the secret to perfectly aligned double matting and how to create multiple opening mats for diptychs and triptychs.
All experience skill levels are welcome
Non Members Fee: $120.00 Members Fee: $100.00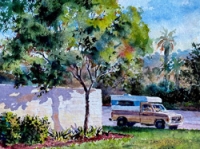 Watercolor Impressions, 3D Light and Shade
Instructor: Drew Bandish
Learn a watercolor sketching method that captures the value pattern of sunlight and shadow on any subject that casts a shadow. With this Pattern Sketch skill, you quickly see if you have a composition that will lend itself to an exciting painting. Small quick sketches will help us explore and improve design decisions. You will gain experience in planning within formats that are proportionate to the intended painting format.
All experience skill levels are welcome
Non Members Fee: $120.00 Members Fee: $100.00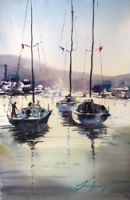 Watercolor Impressions, How to Paint with Confidence
Instructor: Luis Juarez
Students will learn what it means to paint with confidence and vision to see the finished product before they lift a brush. Composition and values being the key to a successful painting, you will learn how to simplify your painting and capture a strong composition. In addition, Luis will teach you how to sketch without fuss to eliminate unnecessary detail.
All experience skill levels are welcome
Non Members Fee: $185.00 Members Fee: $165.00
Date: Thursday, September 23, 2021 - Friday, September 24, 2021
Time: 9:00 AM-3:30 PM

Login and sign up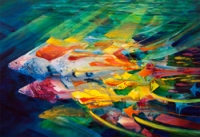 Creating from Chaos
Instructor: Ed Labadie
Explore an exciting method of creating works from wild wonderful beginnings, then develop the images you discover. Ed guides students to design with dynamic shapes, contemplate narrative and drama, or enhance traditional scenes. Expect valuable demos, personal attention, essential techniques and tips, presented in a relaxed supportive atmosphere.
All experience skill levels are welcome
Non Members Fee: $185.00 Members Fee: $165.00
Date: Saturday, November 13, 2021 - Sunday, November 14, 2021
Time: 9:00 AM-3:30 PM

Login and sign up