---
Workshop Information
Currently, our San Diego County and the CA Department of Health recommends wearing masks when indoors and when you are around those who may be vulnerable to the virus
All workshop participants must have an account on our website to register for a workshop. SDWS Members should log in to their account prior to registering. If you are not a member and do not have an account, please click HERE to create a free account.
Workshop prices are discounted for SDWS Members. To receive the discounted price, please log in to your account before registering. If you are not a member or your membership has expired and would like to receive the discounted price, click "Membership" in the main menu to renew your membership or join SDWS prior to signing up.
Please contact our workshops registrar at registrar@sdws.org to be added to the WAITLIST or the workshops director at workshops@sdws.org with any questions.
In-Gallery Workshops: All in-gallery workshops are held in our beautifully light-filled education center inside the San Diego Watercolor Gallery in The ARTS District of Liberty Station. (Location)
ZOOM Workshops: Virtual workshops will be conducted using Zoom. They will include a combination of live painting demo(s), interactive communication with the instructor, and individual painting time - all from the convenience of your home / studio.
Click HERE for Virtual Workshop Technology Requirements
Click HERE for Workshop Refund Policy
Click HERE for Nearby Hotel Accomodations
---
Workshops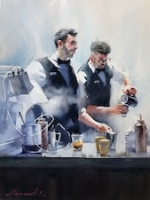 People and Animals in Watercolor
Instructor: Lisa Wang - Live in Gallery
Lisa will start with easier subject, gradually move on to more complicated ones. The
demonstration will be step by step, how to start the drawing with basic shapes and at
last finish the painting with fine details touches.
Experience: All Levels
Non Members Fee: $450.00 Members Fee: $425.00
Date: Wednesday, November 1, 2023 - Friday, November 3, 2023
Time: 9:00 AM-3:00 PM

Login and sign up
Master Class with Joseph Zbukvic - Live In Gallery
Instructor: Joseph Zbukvic
A special opportunity to learn from the master!
Learn to see watercolor as a medium, it's good qualities and limitations. Learn basic rules of
good composition, how to see shapes rather than objects and master basic drawing skills.
Experience Level: Advanced
Non Members Fee: $700.00 Members Fee: $650.00
Date: Saturday, November 4, 2023 - Monday, November 6, 2023
Time: 9:00 AM-3:30 PM


WAIT LIST ONLY

Please click here to be added to the waitlist.
Portraits in Watercolor
Instructor: Susan Hewitt
If you always wanted to paint portraits this is the class for you Susan will guide you in allaspects of portrait painting, including color choices, shapes and proportion. This is the perfect follow up class if you have attended Susan's Beginner Portrait Class.
Experience Level: All Levels
Non Members Fee: $185.00 Members Fee: $165.00
Date: Saturday, November 18, 2023 - Sunday, November 19, 2023
Time: 9:00 AM-3:30 PM

Login and sign up