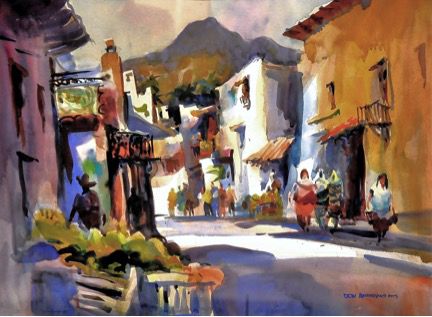 Dear Painters and Admirers of Watermedia,
I hope you and your family are well and that you are finding ways to enjoy art. The above is a painting by Don Andrews from our Permanent Collection.
SDWS needs your help. We had to close the SDWS Gallery in mid-March and cancel on-site workshops. Income from those sources decreased while rent increased. The City of San Diego has helped support us for 13 years, but their funding has been slashed due to their budgetary deficits. When the gallery reopens in early 2021, we will need about $15,000 for protective equipment and extra cleaning to safeguard the public and SDWS's volunteer workers.
In typical SDWS style, everyone pulled together to make the virtual world work for us. Some of our successes between October 2019 and September 2020 include the following:
Presented 17 painting exhibits (*7 were online, enabling far-flung members to enter shows for the first time!!)
Displayed 1,652 original works of art
Sold 123 paintings
Held 6 onsite workshops (*plus 5 online workshops that out-of-towners could attend!!)
Taught 121 elementary school children about watercolor painting
Although we're resourceful, we have started our new fiscal year with uncertainty and anticipate a shortfall.  To ensure the continued success of SDWS this year, your gift will be even more important than usual.  Please consider donating before the end of the calendar year. 
Donation Options:
Donate Online: Click HERE to Donate Online
Donate by Mail: Mail a check to the SDWS Gallery, 2825 Dewey Road, Studio 105, San Diego, CA 92106 
Thank you for your consideration,
Pat Wahlen
SDWS Development Director
P.S.  The law allows gifts to be tax-free if made directly from an IRA account to a non-profit organization, such as SDWS.  The gift isn't claimed as income, but it is not tax-deductible. Other donations are tax deductible as SDWS is an IRS recognized non-profit organization: Tax ID 95-3153264.