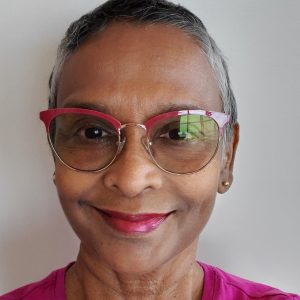 I spoke with Mary in a lovely outdoor garden of her downtown condominium complex in early April, 2021. Our conversation strayed early on from my prepared questions, and I was treated to a full afternoon of dialogue with this extraordinary person who is, among many other things, a new but successful artist.
Mary was born in India and came to the United States in 1982 to do a PhD at the University of Arizona in 20th century literature, writing her dissertation on the feminist playwright Caryl Churchill. She taught at several universities and colleges, including Bowie State University in Maryland, a historically black university. When they moved to San Diego for Spencer's new job as dean of arts and sciences at California State San Marcos, she began teaching part-time—first at MiraCosta and then at Palomar College.
While at Palomar, she began taking classes in art "to learn something new" and began with acrylics. The first reaction her work in portraiture elicited from her art professor was laugher; "my work was so bad", she admits. When she asked how she could improve, the instructor gave her a hefty book of drawings, and told her to practice from it. When she returned in a week with a huge pile of drawings ready for him to critique, he told her that the reason she could succeed at art was because she was a hard worker. She took a few more classes at Palomar in drawing, color theory, and even art history.
When she retired as an academic, she decided to try watercolors because someone told her that it was a difficult medium to work with. Her first workshop in 2018 at SDWS was with artist Richard Hawk. She learned from Hawk that she needed to go slow on going dark in her paintings—a valuable lesson that she keeps in mind even today when painting. While she learned the art of blending from Linda Mullen, she learned the joy of dramatic shadows from Robin St. Louis. And artist Chuck Rouse validated for her all that she learned and worked hard at by awarding her First Place for New Orleans Violin Player in the December 2019 SDWS Member Show.
For now, Mary has decided she needs to develop her own style relying on her intuition and her mistakes to be her instructors
Mary enjoys painting portraits. Landscapes and seascapes cause her brain to short circuit, she says laughingly. But portraits came relatively easy to her even without any formal tutoring or study. She just knew she could do it and did it, she admits. She selects her subjects carefully, thinking about a photograph for a long time before beginning work. The photograph has to move her or touch her in some way. The photographs are not hers, but she always gets explicit permission from the photographer to paint non-copyrighted photos. Her subjects are often people of color–individuals who might be overlooked by society at large. For example, "New Orleans Violin Player" which won First Place is a painting of a young man of diverse ethnic background playing the violin in the sun-lit streets of New Orleans. In July 2020, her painting, "Fiercely Tender", of a young father holding his new born son won her Juror Commendation. The painting highlights the tenderness that men (fathers) are capable of. Tenderness is not the sole prerogative of women. In August 2020, "Catalina" was awarded Third Place. The focus here is on the pain and torment of old age. January 2021 brought fresh kudos with "Man"being honored with Second Place. Here Mary is drawing attention to the beauty of the African American who is often in our society derided and demeaned for his facial features and skin color. April 2021 brought her yet another accolade with "Homage" earning the Best of Theme award.
In addition to these honors that she has garnered since 2018 through sheer hard work at the Member Shows at SDWS, Mary's "Man" was selected for the 2020 SDWS International Show. "Catalina" was selected for the 2021 Western Federation Show. And her painting "Majesty" won Honorable Mention in Northern California Arts International Exhibition in Sacramento. Currently, she has been accepted by New Mexico Watercolor Society for their 2021 Masterworks.
Mary McWilliams is a generous, intense, and hardworking artist. Her hard work, strong interconnectedness or empathy for the subject, and relentless pursuit of developing an individual style has resulted in her paintings being noticed and selected by a diverse group of jurors at the local, regional, and international level. As one of her workshop instructors/artists said, it is clear that Mary can, indeed, look forward to a "long and illustrious career "as a watercolor artist.