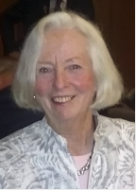 Julie Anderson is July's Volunteer of the month. Since her first nomination in 2014, Julie has continued to volunteer in many capacities for SDWS. She has participated in Entry Days and Jury Days, served on committees for I Shows, and frequently sits the gallery, welcoming visitors and promoting our organization.
Julie was the Education/Outreach director for many years, in addition to being the SDWS Education/Outreach treasurer- a volunteer position she still holds. In 2019 SDWS was fortunate to have Julie on the team to offer timely suggestions and reliable information about the best practices for making Education/Outreach a success. She is a lead teacher extraordinaire. This year while many outreach visits were on Zoom, Julie was the first Education/Outreach lead teacher to conduct in person lessons. 104 lucky middle school students were able to enjoy the experience of having such a talented and professional teacher inspiring them to paint.
Julie established the Beginners Classes with Jami Wright, promoting confidence in aspiring artists and new members. Julie is described as well organized, and knowledgeable as well as a patient teacher who encourages her students and gives lots of individual help.
Julie is a staunch supporter of SDWS. She is welcoming to new members and is an excellent mentor to aspiring artists of all ages and abilities. Her generosity in sharing her knowledge and willingness to help other volunteers are examples of the many qualities that make her a perfect candidate for Volunteer of the Month.