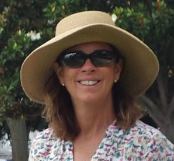 Sharon Sheehan is our Volunteer of the Month. For many years, she has been working diligently behind the scenes as the SDWS Workshop Registrar. Sharon has handled a multitude of tasks, including managing all aspects of workshop enrollment. From registrations to refunds and cancellations to communicating with registrants, Sharon has worked with the Workshop Director and Bookkeeper to keep track of data and make sure everyone is on the same page. If you have taken a workshop within the last several years via Zoom or in gallery, your registration was handled by none other than Sharon Sheehan.  
Sharon has been described as knowledgeable, dependable, efficient, and a delight to work with. Before Covid, Sharon volunteered to set up and organize the SDWS "Paint in" Life Drawing group. Sharon hired models, set up the posing area, arranged workspaces for artists, and kept the participants, engaged, encouraged, and informed. The Tuesday morning gathering was a wonderful opportunity to bring artists together. This accomplishment, as well as her years of handling the registrar position with patience and thoroughness, has helped better our organization. 
Sharon has given great service to SDWS and certainly deserves the honor of being our Volunteer of the Month.