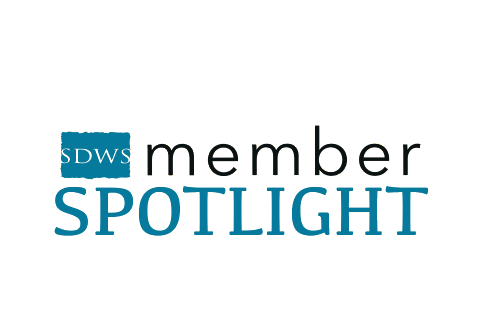 Three time's a charm, right? Well, day three of our Member Spotlight features the one and only, Chuck McPherson. Chuck is a long-time member and advocate for the San Diego Watercolor Society. He's served in numerous capacities and is a true champion of the arts.
Artist Bio: Chuck McPherson NWS, WFWS, WW, SDWS
Chuck is a well-known, award-winning artist working in watercolor, mixed media, acrylic, and oil. He is a Listed Artist who has shown in institutions like the Oceanside Museum of Art, the California Center for the Arts Escondido, the San Diego Museum of Art, and fine galleries like The San Diego Watercolor Society and the Ashton Gallery in North Park.
In twelve years as a practicing artist, he has served on many Boards and his art has been awarded over 400 times in shows and events.
Chuck is constantly doing workshops, demonstrations, and "paintformances" when he isn't teaching and mentoring…
See his art at www.chuckmcphersonart.com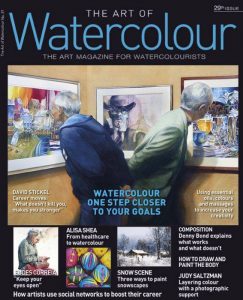 Interview
When did you first get started as an artist?
Born with a pencil in my hand, copying the works of Michelangelo, Albrecht Durer, and Leonardo Da Vinci as a child. I even made a complete rendering of the Sistine Chapel ceiling. Guessing you could say I've been schooled by the best…
Could you tell us a little bit about your background?
I took Art classes in High School, earned my BA with Distinction in Graphic Comm from SDSU, and cemented the desire to create during my study of Illustration at the Art Center College of Design in Pasadena. That said, my wings sprouted wide after discovering watercolor in 2007 and joining SDWS. At first, I was quite intimidated by Jim Millard, June Maxion, and other Traditionalists. But accepted sage advice from them and others Like Carol Thomason, who encouraged me to bring myself into my artwork, the fear dissappeared and I was awarded in my debut show at the Gallery. After nearly fifty awards here (plus one in the International Exhibition) I strive to improve!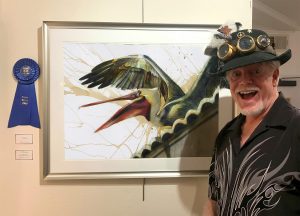 What can you tell us about your painting style /favorite medium(s), favorite subject matter(s) / etc.?
Style. Man. That's a tough question. I was trained as a Realist, but have found myself growing looser as I mature (insert old joke here). In order to support that desire, I often utilize a 6-inch brush to assure against tightening up. I love working, first and foremost, in watercolor and havent seriously persued other mediums because of that love affair. "She" treats me well, as long as I remember my place. My secondary mediums are oil or acrylic on mahogany. I tackle all manner of subjects since it's more the voice of the paint that excites me!
Why do you paint?
I paint to communicate. Most people who know me do not realize that I am an introvert by nature; but give me an attentive group, put a brush in my hand, and stand back ~ I will own the room. I relish being demonstrative as a Painter and bringing a strong narrative through design and application.
What inspires you as an artist?
My inspiration comes from living life and grabbing tidbits that make it a rich experience for me. When I'm not creating, I am out antiquing or exploring interesting situations. The antiquing, with it's visual clutter, actually sparks my mind. In an upcoming demo, I will be presenting a late 1950s battery op toy by Alps, "Trumpet Playing Monkey", as a 16″x16″ acrylic on cradle board. My hope is to turn it into a limited series of originals.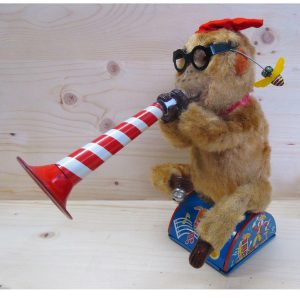 What advice do you have for someone who is just getting started or would like to improve their painting skills?
Take classes with contemporaries whose creations you admire. But a warning ~ resist trying to "paint like them" ~ you'll be intimidated quickly and give up! We have a plethora of amazing talents at SDWS; taking classes, workshops, and participating in Paintouts helps them survive as Artists, and YOU will grow a lot faster with the gift of their input. Absorb what they offer and apply their wisdom to your own vision. You WILL develop your natural "voice" over time, like I did. I've only been a Watercolorist for 13 years… STILL an infant, but I do great because I follow these guidelines.
Can you tell us a little bit about your favorite aspects of the San Diego Watercolor Society?
The Society is my Art Family. I experience such love and support here. Having been involved on all levels with a number of organizations, I can say that SDWS is made up of the most genuine, feeling people. We have tons of valuable social discourse, amazing volunteerism opportunities, and ways of giving back that will probably fit anyone reading this. The sum of all these strengthens self worth without self focus.
If you are currently volunteering, can you describe your role?
Time to step up, huh? Well, I served as Member Shows Director; contribute as a member of the annual International Exhibition Committee for quite a few years, designing the presentation of the show, placing the juried art (with Roberta Dyer), producing the graphics and print (catalog), and assist where I am directed; I have lead some of the Saturday Paintouts; I offer unabashed and, what I hope will be received as, valuable evaluations of how to grow the Society.
If people would like to view more of your artwork, what's the best way for them to follow you?
People are welcome to follow my website at http://www.chuckmcphersonart.com and I maintain a very active presence on Facebook where I post my art (sometimes in step-by-step), demo, class, and workshop happenings…