Thomas Franco, an artist and resident of Tierrasanta, San Diego, California, won the Honorable Mention for Miniatures award in the continuingly competitive May 2021 Member's exhibition "Shape Zone" held as a gallery show in May 2021, at The San Diego Watercolor Society gallery at 2825 Dewey Road in Liberty Station, San Diego, California.  Franco's painting entitled "Springtime PLein Air" was selected by prominent local artist and juror Rise Parberry for this honor, out of more than 270 entries. Parberry said of  the painting, "I love this as just a traditional watercolor. It's beautifully handled, the color harmony and the lights and darks are perfectly placed. It is the quintessential traditional watercolor."
Tom Franco, a native of Jersey City, New Jersey, studied art at the Newark School of Fine and Industrial Arts and also earned a BS degree in Marketing/Advertising from Seton Hall University. He started his career in advertising as an artist, but quickly switched to copywriting, ultimately becoming vice president of corporate communications for a New England life insurance company. His watercolors have been displayed in numerous art shows in New England, and after retirement he joined the San Diego Watercolor Society, where his paintings have won awards, including Best of Theme in August of 2018 and the current First Place award.
Tom works both in transparent watercolor and acrylic, feeling that these media require almost opposite approaches. In transparent watercolor, the overall design must be worked out before the first brush stroke, thereby retaining a freshness and translucency. For acrylic, broad patterns can be worked out and refined as work progresses. Using both media, then, encourages fresh perspectives on design. He also adheres to the school of painting that focuses more on the design of patterns than on specific objects. Reach Tom at: francosyl@hotmail.com
The gallery exhibit is the first in-person showing of art for the San Diego Watercolor Society since the beginning of the COVID pandemic, and will run through Saturday June 27, 2021 at the gallery at 2825 Dewey Road in Liberty Station. The gallery is open Friday – Sunday from 11:00 AM through 3:00 PM. The show can also be seen on the San Diego Watercolor Society's website at https://www.sdws.org/galleryart.php?cat=6967 where the paintings can be both viewed and purchased from the Online Store.
ABOUT SAN DIEGO WATERCOLOR SOCIETY
The San Diego Watercolor Society, a 501(C)(3) non-profit organization founded in 1965, is dedicated to expanding the appreciation of and involvement in watermedia painting through education, exhibition and promotion. More information can be found at http://www.sdws.org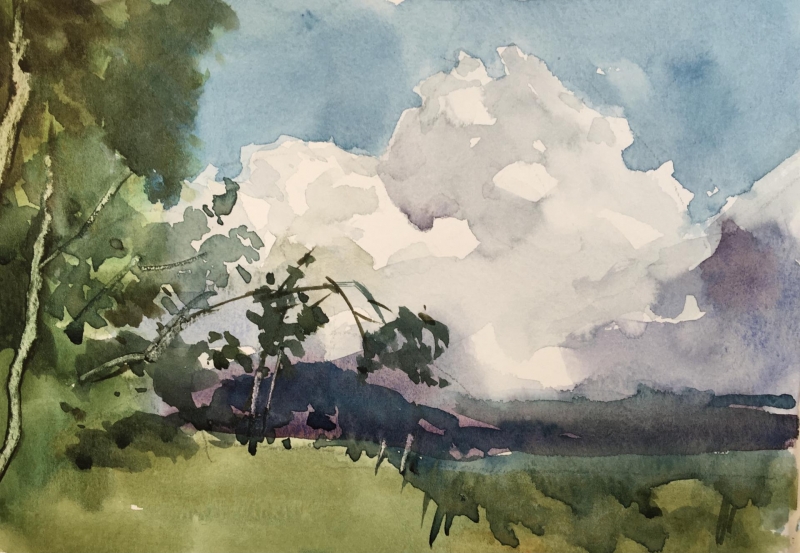 "Springtime Plein Aire" by Thomas France
Watercolor, 6 x 8 in