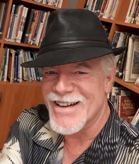 Chuck McPherson is our Volunteer of the Month for June. He is a longtime member. Since joining SDWS in 2008, he has been a staunch supporter of our organization and a willing volunteer in many capacities. 
Chuck is a great team member bringing energy, a positive attitude, and new ideas to every meeting. He has been the Member Show Director and helped to place paintings in a beautiful and professional show every month. For many years Chuck has volunteered to place the annual International Exhibition. His ability to present the paintings so perfectly takes our gallery to another level. A talented artist and graphic designer, Chuck has created show posters, support graphics, and International Exhibition catalogs. 
Chuck has a great sense of humor and a way with words. He consistently promotes SDWS on social media and encourages artists to enter shows and visit our website. Chuck is also a teacher and mentor, inspiring his students to enter SDWS monthly shows. A number of these mentored artists are now regular exhibitors in our gallery. 
Chuck is always willing to give advice and assistance to fellow members. His loyalty and dedication to supporting SDWS is commendable and worthy of this award.