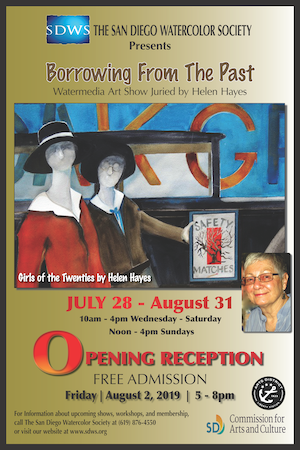 The August 2019 monthly member show will be a Merchandise Awards Show, so get your paintings ready!
This year, the awards will be a Logan 350-1 Mat Cutter, a $50 gift card from Artist's and Craftsman Supply, and two sets of Dr. Phil Martin's assorted color "hydrus" watercolor ink sets. 
The juror for this show, Helen Hayes, will select the accepted paintings which will hang in the San Diego Watercolor Society gallery and also select the lucky winners.
Winning artists will be contacted by phone and will choose their preferred award starting with 1st place, best mini, 2nd place, and 3rd place.
Enter online from 7/15/19 to 7/27/19 or in person on Member Show Entry Day, 7/27/19. Don't forget! You must bring your painting(s) to the gallery on Member Show Entry Day to complete the entry process whether you entered online or not! (How To Enter) 
Note: Merchandise Award Shows are not the same as Cash Award Shows, and therefore, artwork may not be items previously juried into a past show.
---
A Note of Thanks… We are grateful for the generosity of the San Diego Watercolor Society members who made this Merchandise Award Show possible. The Logan 350-1 Mat cutter is courtesy of Ski Torzeski and the Dr. Phil Martin's Ink Sets were donated by Nell Bartlett. Thank you, friends!
Tags: acrylic, artist, awards show, san diego art gallery, san diego watercolor society, watercolor, watermedia