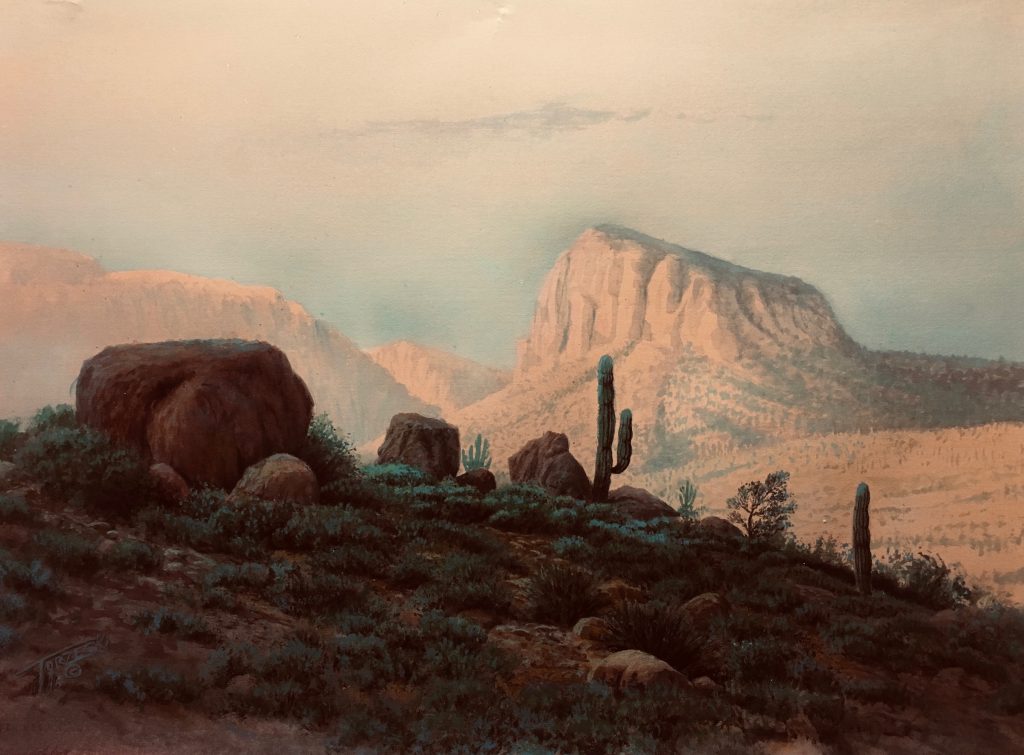 We are thrilled to offer an original painting by award-winning member artist, Ski Torzeski, for the International Exhibition Raffle. This stunning painting will look spectacular in your home or office so be sure to visit the gallery and purchase your tickets before the lucky winner is drawn on November 1, 2019.
East County Magazine recently featured Ski and noted many of his fine accomplishments.
---
"Above the Timber Line" by nationally recognized artist Ski Torzeski of El Cajon is one of 95 paintings selected by juror Jeannie McGuire for the 2019 San Diego Watercolor Society International Exhibition. The work also received The Jess and Ann Walker Family Award.
When asked about Ski's painting, McGuire commented, "The painting by Ski is such a strong piece. The soft tranquil palate is strengthened so subtly by the excellent angular design and detail leading the viewers eye directly to the outskirts of the painting; the water and beyond."
The San Diego Watercolor Society's International Exhibition is open to all water-based media artists and received more than 600 entries for the 2019 exhibition. Artwork from award winning artists flooded in from 19 countries in the hope of being accepted for this prestigious exhibition.
Torzeski, known for his realistic landscape paintings, often finds inspiration in the great outdoors. As an avid traveler, Ski creates pen and ink sketches in the field and returns to his studio to bring them to life. Ski's painting "Cliffs of Similkameen" received the People's Choice Award after receiving the highest number of votes by the roughly 2000 visitors who toured the San Diego Watercolor gallery in September.
In addition to painting, Ski is a highly sought-after landscape designer and specializes in extremely rare tropical plants which are showcased in the lush, botanical paradise he created at his home. One of his many accomplishments includes the design and construction of the MacPherson Waterfall at the Quail Botanical Gardens in Encinitas, California.
Ski professes that "he was blessed with an inordinate amount of energy" and is driven by the desire to continually challenge his creativity and artistic vision. So when his musician friends expressed the need for a better guitar, Ski exploded into the world of fine instrument making and produces exquisite custom acoustic guitars designed for the easy playing of an electric guitar with the tone and craftsmanship of an acoustic.
Ski has generously donated one of his original paintings "Late Afternoon" to the San Diego Watercolor Society for the International Exhibition Raffle. Tickets available at the gallery. Winner will be chosen on November 1, 2019.
The San Diego Watercolor Society, 2825 Dewey Road in Liberty Station offers special hours for the International Exhibition and will be open from noon to 4 p.m. Sunday; and 10 a.m. to 4 p.m. Monday through Saturday. Admission is free. 619-879-4550. SDWS.org