If you need a little inspiration during these uncertain times, you will certainly find it by spending some time with award-winning artist Roberta Dyer.
Roberta, a past-president of the San Diego Watercolor Society, is also a Signature member of the San Diego Watercolor Society, Western Federation of Watercolor Societies, and International Society of Acrylic Painters (ISAP).
Recently, Roberta has created a series of videos and is sharing them on YouTube. They are a great way to get some creative energy flowing!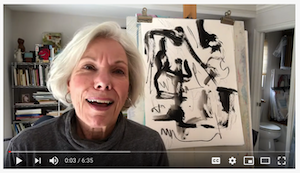 "Artists mostly work alone, but we need to congregate every now and then to share ideas and inspiration.  I have had many students ask me if I could stay in touch while we are isolated, so I decided that I could reach the most people by doing short videos with easy and quick little projects to encourage creativity.  My plan is to do one a week for the duration of "alone together" and maybe even afterwards." – Roberta Dyer
To learn more about Roberta, and view her stunning artwork, visit her website www.robertadyer.com.