The April Member Exhibition is on display until April 26, 2020 exclusively on the San Diego Watercolor Society website. This outstanding watermedia show was juried by artist, Rikki Reinholz and features a wide range of subjects by our member artists. The theme for this month is "Cheeky Monkey".
Interview by Carla Scheidlinger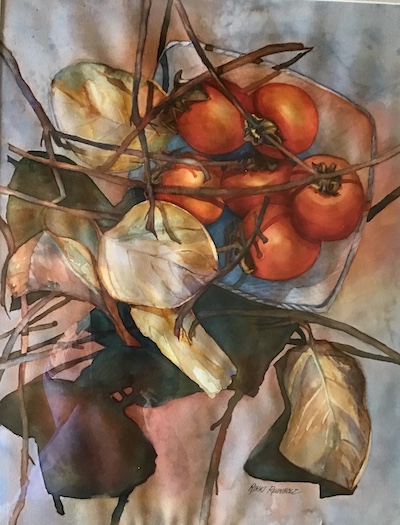 About the Juror: Rikki Reinholz
An Interior Designer in San Diego for the past 43 years, Rikki Reinholz took her first watercolor class in 1985. After graduating from University of Southern California, with a Bachelor of Fine Arts degree and a Secondary Teaching Credential, Rikki taught art at the secondary level in the Los Angeles City School system. She also did graduate work at the University of Tennessee in Gatlinburg. Rikki combines her talent as a designer, artist and teacher with her love of watercolor, and is known for her paintings of persimmons and pomegranates. She enjoys exaggerating the play of light on objects and creating interesting shadow shapes using a combination of "mingling" luminous colors and transparent glazes, taking advantage of light patterns, shadows and strong values to create a mood. Rikki is a Signature member of the San Diego Watercolor Society, Watercolor West, Western Federation of Watercolor Societies and active member of the Fallbrook Art Association. She lives in Carlsbad, California.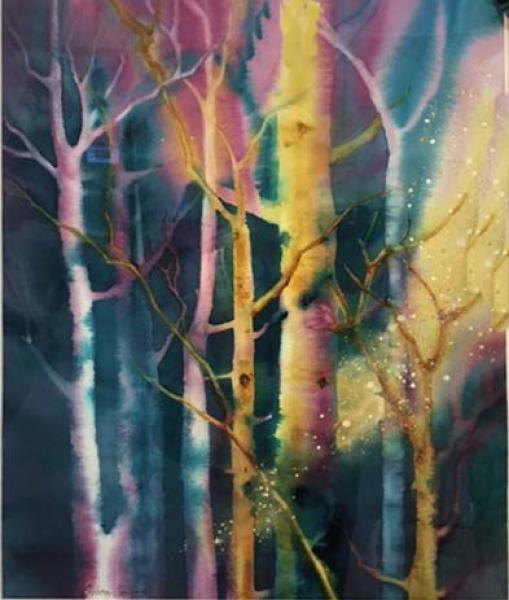 First place: "Spirit of Spring", by Sylvia Smith
The colors were fabulous, and the mood is mysterious. She did a great job of putting a picture together of trees, but the colors are what make it mysterious and exciting. It is just a beautiful painting!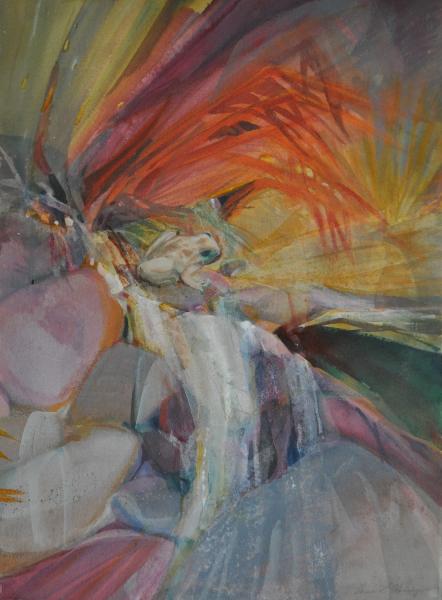 Second place: "Cool Frog" by Elaine Harvey
This painting has a wonderful composition. It has a nice circular swirl to it, and in the middle the frog is just suggested, which makes the whole painting make sense. The colors and the brush strokes are what make it so exciting and inspiring.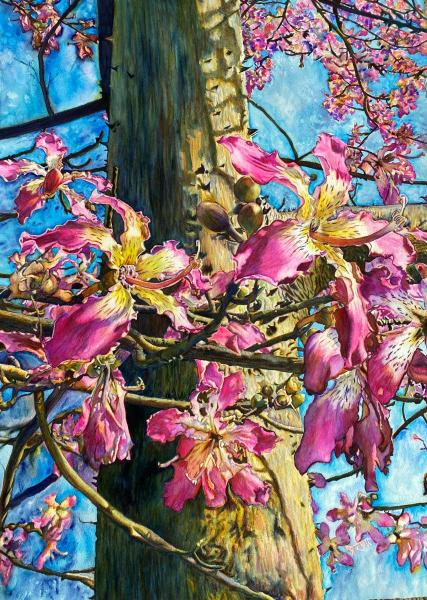 Third Place, "Silk Floss Tree Blossoms", by Prerana Kulkarni
I really loved the detail and the precision in her work! And the use of color! She has so much beautiful detail and line work. The whole picture is so well designed, and so very, very precise and exact. The details are perfect!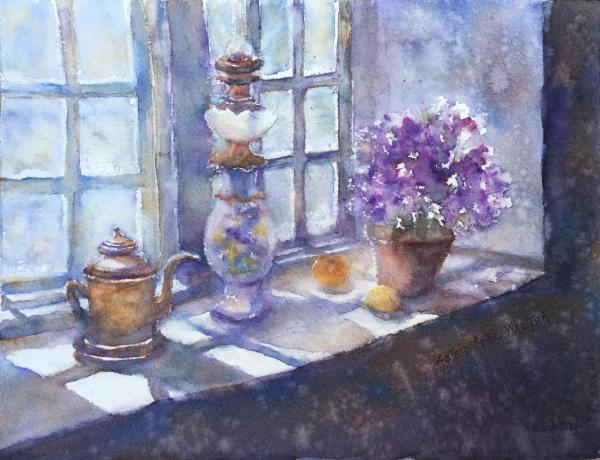 Best of Miniatures: "Window at Rosendal", Astrid Edel Walter
The colors were just so beautiful, and the light coming in making these shadows with beautiful colors in them. It was a happy painting which we all need at this time, and it was very well painted and designed. The nicest coloring!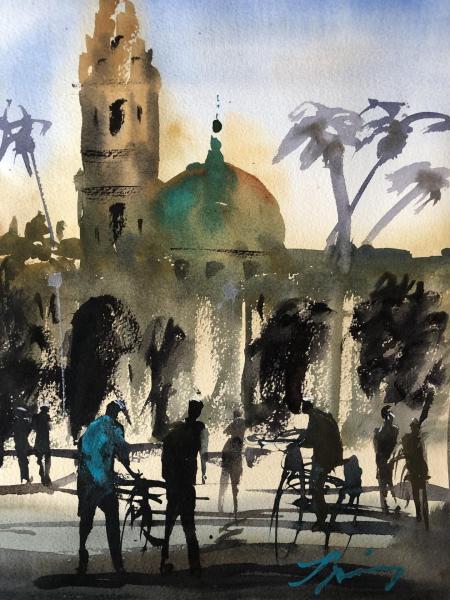 Honorable Mention, Miniatures: "Balboa Park", Luis Juarez
In this painting, the values, contrast, and the figures are very well done. It is loose, but you know exactly where they are: it's Balboa Park! The colors are very subtle, but the value change is what makes it exciting.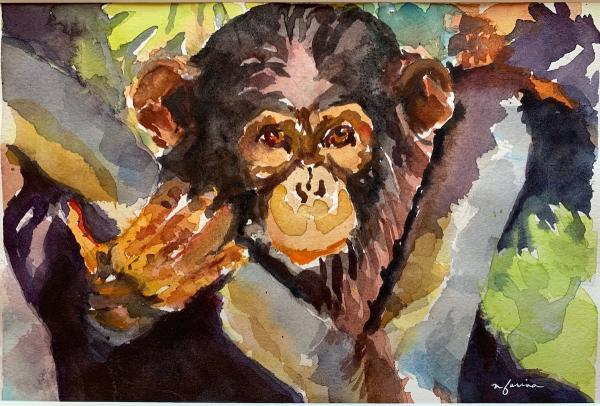 Best of Theme: "Monkey Business", Nannette Farina
He's adorable! Several monkey paintings were submitted, but this one was such a happy monkey. He is sort of framed by the tree limbs which are so well painted. The monkey too is so well painted with a nice expression on his face. The painting is very, very well done.