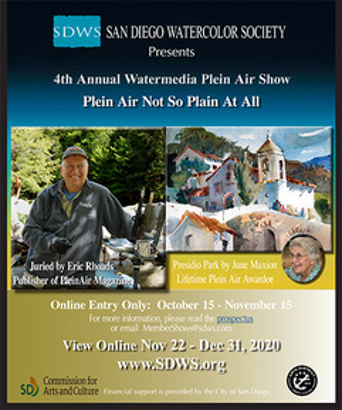 The San Diego Watercolor Society's Fourth Annual Plein Air Exhibition is coming up! This year's exhibition will be hosted virtually on the SDWS website from November 22 through December 31.
The Plein Air show recognizes the amazing work of the many plein air artists in our membership, including June Maxion, this year's recipient of the Lifetime Achievement in Plein Air Painting award. Two of June's paintings will be among the show's paintings highlighting scenes from our county and throughout the world.
Presidio Park by June Maxion

Along the Moselle River, Zell, Germany by June Maxion
Entries must have been painted en plein air within the past two years and can include work painted during the Wednesday Paint-outs, the Saturday Morning Painters, or individual work done on location.
Due to the pandemic, the show this year will be a virtual exhibition. Entry is online, and all paintings will be sold without a frame or mat. Cash awards will be given for First, Second, and Third places. In addition, there will be awards for honorable mention and juror's commendation. There is a flat fee of $15 for entry, and artists may submit one or two paintings.
The juror for this exhibition will be Eric Rhoads, publisher of the Plein Air magazine and Fine Art Connoisseur. Eric has been a tremendous force behind the recent resurgence of plein air painting worldwide, and we are honored to have him as our juror. 
The prospectus can be found (HERE). Entry will be online from October 15 through November 15, 2020, through a (LINK) on the member page. You must be a member of SDWS to enter. 
SDWS will host a Virtual Award and Celebration reception using Zoom on Sunday, December 6, from 2 to 4 pm, PST. At this time, we will recognize June Maxion for her achievement in Plein Air across her lifetime.
If you have questions or run into difficulty entering your art, please send an email to pleinairshow@sdws.org.