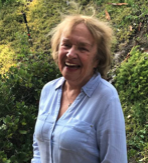 Glory Giffin is September's Volunteer of the Month. She has been consistently and quietly working behind the scenes since 2015 to ensure that SDWS has Staffers in place to keep our gallery open. Glory was nominated as a VOM in August of 2017. Since then she has not slowed down except for the Covid year. And even then, Glory was one of the first staffers to volunteer to sit the front desk when the gallery opened in May. 
As Staffing Manager, Glory made sure the Staffing Calendar had all open days covered. She sent emails, made phone calls, and many times signed herself up to fill in an empty staffing spot. During the General Meetings, Glory volunteered to help staff the front desk, even though she was missing the Demos in the Ed Center. 
She has taken on many volunteer roles. On First Fridays, Glory used to greet visitors and hand out "People's Choice" ballots. For five years, Glory has been a member of the I-Show committee, creatively planning and filling swag bags for the artists. Over the years. She has helped train staffers and is always willing to offer support when it is needed. 
Glory is hardworking, helpful, patient, and kind. Her dedication and ongoing support of SDWS make her a well deserving Volunteer of the Month. Congratulations Glory!