San Diego Watercolor Society (SDWS) is pleased to offer a two-day in-person workshop with local artist Luis Juarez titled "Watercolor Impressions, How to Paint with Confidence" on Thursday, September 23rd – Friday, September 24th, 2021 from 9:00 AM to 3:30 PM at the SDWS's Liberty Station studio at 2825 Dewey Rd, Suite 105 Building 202, San Diego, CA 92106. Students will learn what it means to paint with confidence. Each student will be given steps to paint with a vision – that is, to see in their mind's eye the finished product before they lift a brush.  Luis will focus on composition and values as the key ingredients for a successful painting.  You will also learn how to simplify your painting and capture a strong composition.
Luis Juarez has been painting watercolor art since 2008, specializing in painting Plein Air in San Diego. He says of his process, "I paint what I see. However, I always feel free to move a building or a mountain to enhance the painting. The final result for a successful composition is more important than the reality of what I see." He has won numerous awards at the SDWS monthly Members Shows, attracting the attention of the jurors with his confident, loose yet highly evocative style, and sometimes an almost monochrome palette. Find more information about Luis and see his work at https://luisjuarezfineart.com/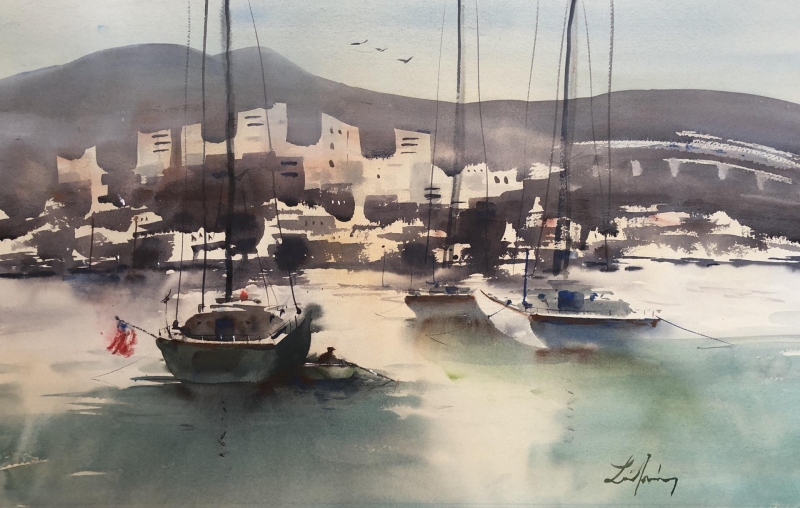 Luis has provided the following list of supplies for his workshop. He says, however, "Don't let the materials list intimidate you. I will teach how to work with anything you have."
Paper: I will be using Arches watercolor paper and a variety paints. I mostly use DaVinci, Daniel Smith, M.Graham, Sennelier and Windsor Newton.
My favorite paint suggestions:
Brush suggestions: Brushes that hold lots of fluid, plus synthetic brushes. Bring what you already have at home. I'll work with what you've got.
The cost for the workshop is $185 for non-members, and $165 for members. To enroll, visit the SDWS website at https://www.sdws.org/classes-detail.php?ID=2015696